Arithmo Review
Review breakdown
Ease of use

Speed

Features

Support

Reporting

Price

VAT handling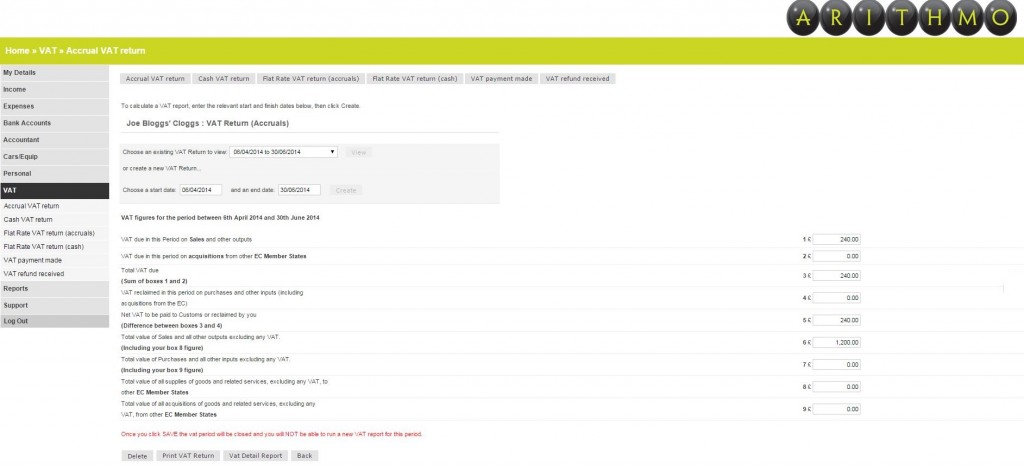 Our review of Arithmo
Ease of use: There is one word to describe the user experience of Arithmo; awkward. This accounting software seems to be very confused. For instance:
There are 77 menu items, most of which are unnecessary. These same items are also repeated across another top menu for some reason.
There was a section for drawings even though we specified the business was a limited company, again confused.
Suppliers/purchases fell under the heading expenses
Under the VAT menu there are different types of returns available to run (such as flat rate, cash accounting etc), even though we specified at the beginning that the company was on standard VAT
There was an extended trial balance within the software for adjustments even though beginners are meant to be able to use this accounting software; very strange.
The website and accounting software have been designed poorly and as you can see from the screenshots it looks like inspiration has been taken from a 90's website. It almost looks spammy.
Speed: The speed wasn't bad at all. Navigating around the site is very fast and entering transactions was reasonably fast as well. Certain transaction types required the user to navigate to different parts of the accounting software which was a shame as it slowed the whole bookkeeping process down.
Features: Nothing to write home about; bank imports (but no feeds) and reoccurring transactions.
Support: Telephone support, email, internal support facility and a knowledge base.
Reporting: 15 reports in total. The reports look awful and drilling down was not possible.
Price: Very cheap, but unfortunately in this case, you get what you pay for.
VAT Handling: This accounting software handles VAT pretty well. It supports the flat rate scheme and cash accounting. It also handles the switch between cash and accruals well but the VAT returns are not nice to look at there are too many VAT options.
The bits we liked: We struggled to answer this. Probably the speed of the application when navigating around is the only thing we liked.
The bits we didn't like: Too awkward, poor user experience and bad design and styling
What level of bookkeeping knowledge will I need?
Despite it being marketed at novices this accounting software would require the user to have a good understanding of double entry bookkeeping. Do not use it if you are a beginner!
Summary
I think it's obvious from the ratings that we did not like Arithmo. We are struggling to work out who would find this accounting software useful. Professionals wouldn't use it as it's awkward and beginners and novices wouldn't use it either as it's too complex for them. More complex businesses would also be put off due to the lack of features. Maybe someone who is very awkward themselves would enjoy this software.
Click here to visit the website