Liquid Online Accounts Review
Review breakdown
Ease of use

Speed

Features

Support

Reporting

Price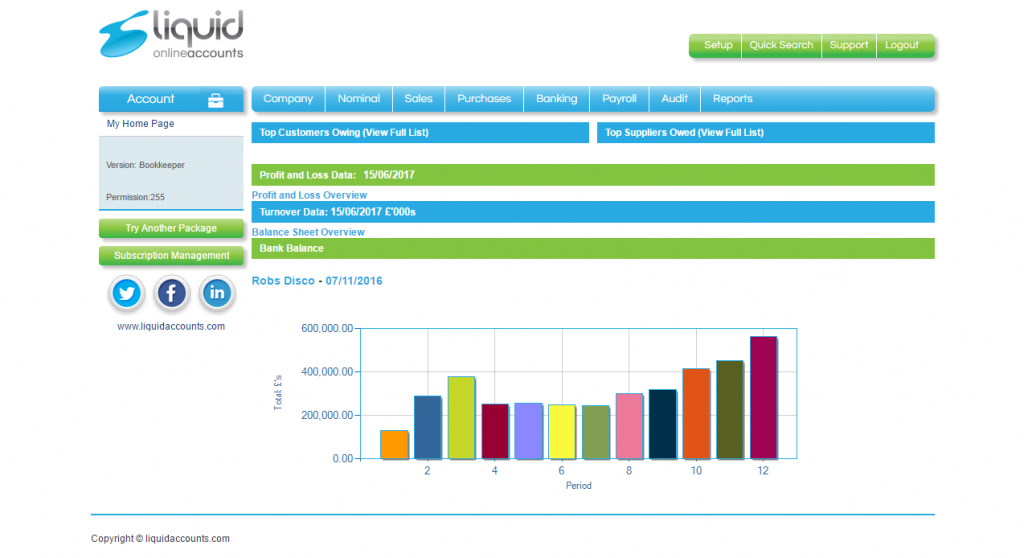 Our review of Liquid Online Accounts
Ease of use: The website and software do look sharp and pretty but that's where the positivity ends. The user experience is not great at all with a bit of an awkward and quirky layout which to be frank seems confused.
Speed: Entering transactions is slow and over the top. For instance, to create an invoice there are 14 fields to complete which is unnecessary, this could easily be cut in half. For some reason the user must select the year end the transaction relates to as well as the transaction date which seems a bit strange. The actual software does not load very quickly either, it seems to have a lot of lag which increases the time it takes to enter transactions.
Features: Liquid Online Accounts does have a fair few features if you're prepared to pay for them, including importing data, repeat transactions, invoice design, PO handling, stock control, multi currency and a basic sales CRM.
Support: There is telephone support available (which is charged per minute, rather than being inclusive), email support and a few videos. There is not a great deal of online material though.
Reporting: The reports, although a lot of them were poor at best. The reports were not easy on the eye and seemed to be missing basic functions like a period start date. So for example, VAT returns must be calculated for a 3 month period (as far as we could tell) which means that if you have just registered or are de-registering for VAT you're going to run into problems. The profit & loss and balance sheet seemed to only display figures for a year which is no good if you need monthly management information. We also noticed a turnover report but did not understand the point of it as this information is included in the profit a loss. The turnover report however did have a start date!
Price: If you want the extensive features such as stock control and PO handling you will need the premium package which is actually the most expensive package we have seen through all of our reviews, especially considering calls cost extra.
VAT Handling: Despite this software being made for the UK market it does not handle VAT very well at all. It does not support cash accounting or the flat rate scheme, the tax codes are confusing and the VAT returns are difficult to read.
The bits we liked: Fairly nice design and good feature offering, albeit for a high price.
The bits we didn't like: Bug in trial balance! VAT handing, what looked like error messages when transactions were entered correctly, also found the nominal codes to be overly complex.
Another feature which we have not seen in cloud accounting before was the necessity to close down the year end before the next year could be entered. This reduces the flexibility that the software has compared to all of its competitors.
What level of bookkeeping knowledge will I need?
You would need to know what you are doing with this software because of its awkward tendencies. If something was not right, you would need to have the knowledge to know it wasn't right, so novices beware!
Summary
Suffice to say that we did not like Liquid Online Accounts in the slightest. It is a shame because the design is good and with it being developed in the UK the potential was there to offer UK businesses a more comprehensive system compared to the bigger more generic software packages, but unfortunately this wasn't the case.
We also came across a serious bug; the trial balance didn't balance after entering just two transactions which is unforgivable for accounting software that has been around for so long!
Overall very confused, awkward, and in places illogical, we would not recommend!
Click here to visit the website