Crunch Review
Review breakdown
Ease of use

Speed

Features

Support

Reporting

Price

VAT handling

Invoicing

Design

Dashboard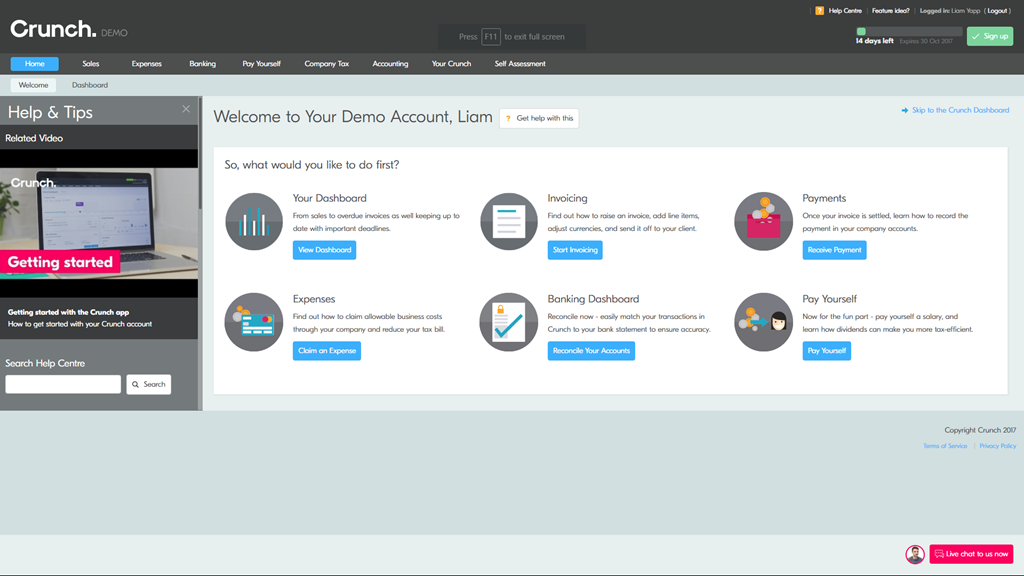 Our review of Crunch Accounting
Our review of Crunch Accounting
Ease of use: Crunch has one of the best designed websites that we have seen and the software looks pleasing to the eye also. However there are an awful lot of menu items (43 in total) and it feels slightly over engineered for what it actually does. There's lots of clutter which is unnecessary and could confuse novice users a lot!
Entering transactions is a long winded process and there was no way to enter anonymous transactions (i.e. transactions not relating to a customer or supplier) which makes things time consuming.
Speed: Slow! There is a bit of lag on the site sometimes and the long winded process of entering transactions means this software, for speed is not good. A bookkeeper or other professional would not use this software for their clients, as they would probably lose money with the time it takes! – Due to a complaint to the ASA by Crunch Accounting we have been forced to back up this point. A latency test was performed using www.dotcom-tools.com The average load time for Crunch was 9.1 second compared with 2.6 seconds of a randomly selected competitor.
Features: An average to low amount of features for the price, including bank feeds, reoccurring invoices, app to record expenses and business mileage app. Due to a complaint by the ASA we have been forced to offer a comparison; Kashflow has more than double the amount of features and integrations.
Support: Telephone, email, knowledge base and plenty of videos, really good support.
Reporting: A small amount of reports (5 in total), although there are some graphs on the different tabs of the web app. Unfortunately drilling down into the reports for an explanation of the figures is not possible. Due to a complaint to the ASA by Crunch Accounting we have been forced to back up this point; Quickbooks Online has 61 reports available compared to 5 in Crunch.
Price: It is difficult to compare the pricing of this package as Crunch offer accountancy services as part of their service. Although Crunch do include additional accountancy services within their prices, we felt that the pricing structure is not modular enough, i.e. you cannot sign up just for the software.
Here is an outline of the pricing packages:
Sole Traders:
Standard: £29.50 +vat per month
Plus: £39.50 +vat per month
Premium: £59.50 +vat per month
Limited Companies:
Standard: £64.50 +vat per month
Plus: £96.50 +vat per month
Premium: £156.50 +vat per month
VAT Handling: We could not test the VAT too much as in the demo version it's not possible to change scheme or other settings. We think it supports the flat rate scheme and cash accounting from what we read in forums but are not 100% sure.
The bits we liked: We really like the sound of the app that can take a picture of expense receipts and upload the figures as a transaction into the software automatically. However we did not test this so we remain sceptical as to whether it's just a novelty or does genuinely save time.
We also like their design and branding.
The bits we didn't like: Over engineered, slow and over complicated. Too much data on screen rather than presenting the user with the important/relevant bits only. Oh and the price.
What level of bookkeeping knowledge will I need?
You're going to need to have had a bit of experience to use this or at least spend a good amount of time going through the various videos etc.
Summary
Overall we felt the concept was flawed and not flexible enough, and overpriced compared to other options available.
Crunch targets freelancers and contractors which is good because they probably won't have an awful lot of transactions to process. We couldn't help feeling though that this would be a bit over the top for a simple freelance business.
Click here to visit the website